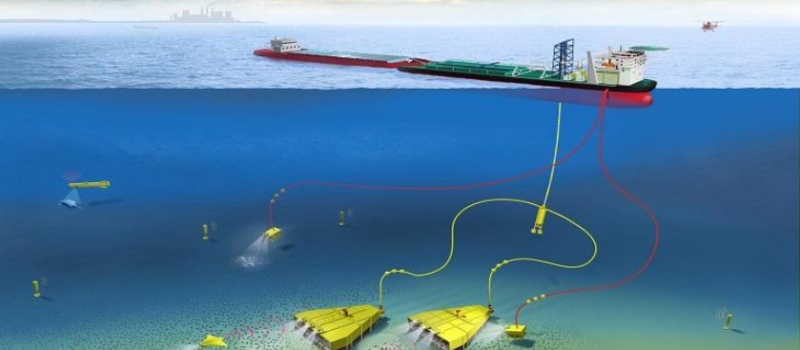 Deep sea mining is an emerging technology.
To successfully mine the deep-ocean floor, the world's most remote environment, mining companies have to overcome a number of perceived technological and environmental challenges to operate in ocean depths down to 3500m.
As the demand for base metals and minerals such as high-grade copper, gold, diamonds and silver increases beyond what the land is able to provide, new technological and technical developments are required drive forward this new industry.
There are significant electrical challenges ahead but what is clear is that a reliable, extremely compact, power supply, free of harmonic distortion is required to power the various cutters, pumps, track drives and other subsea equipment AND the drive production equipment, thrusters and ancillary drives on the mother vessel.
Below is illustrated a simplified concept block diagram of a Resonant Link DC power system for such vessels. It comprises on two AC-DC active transformers; one for the shipboard equipment (including thrusters and subsea lift power pump). The DC voltage is selected according to the VFD IGBT DC voltage requirements, usually in the range 5-20kV, based on 3.3kV to 13.8kV motor voltage).
A second active transformer supplies DC power to the subsea production system. The output voltage of this AC-DC active transformer can be up to 100kV, although only 50kV is shown. Often the higher voltage is preferred to minimise the diameter of the subsea cable. In this type of system, not shown in this example, the DC voltage can be "transformed" to any working level (for the VFDs) via a Resonant Link DC-DC active transformer (DC to AC transformation and conversion is also available).
The virtually harmonic-less AC-DC conversion (<2%), extremely compact sized, solid-state integral short circuit protection, robust design and inbuilt VAR control make Resonant Link and ideal candidate for deep sea mining and other subsea drive applications.